I've had a lovely day today. I decided to do some Mother's Day shopping, but I didn't want to go to a mall, so I checked to see if there were any Craft Shows going on this weekend. It turns out, there are several Artist Open Studios going on. I found one location where about 20 artists were showing and headed over.

I found a beautiful medium sized ceramic bowl for myself. The glazing was beautiful. I also bought myself a pretty pendant. Don't worry, I found presents for my moms too. At another pottery studio I bought two similar small pots with lovely crack-like markings, one for each of my moms.

Then I decided that I couldn't wait to see X-Men Origins: Wolverine with my co-workers, so I took myself. It was appropriate to see it today, as it's my brother's birthday and ever since he dressed as Wolverine one Halloween, I can't not think of him (my brother) when I think of Wolverine. He really did look like him.


Now, keeping in mind that my only familiarity with Wolverine is from the 3 X-Men movies, I really enjoyed it. There were a few times when I thought the storytelling was a bit disjointed, but that's probably because they had to cut stuff out.

I really enjoyed Victor and Logan/Jimmy's background story. Just goes to show that no one like a family member can bring out the animal in you.

I did not realize that the claws had always been apart of Wolverine's anatomy. Is that something new for the movie or is that part of comic canon? Of course, the second I saw the bone claws, I knew they would get snapped off at some point.

Other pluses: Ryan Reynolds in sleeveless shirts with swords. Yummy! I loved Gambit too. He was very cool in action. (Plus, I've got a thing for guys with long hair.)

When the older woman gave Logan the motorcycle jacket, I had an "Ah Ha, so that's how he got it" moment. Only, then he left it in Gambit's plane, which he never returned to, so that wasn't the same jacket he wore in "later" movies.

Now, this is where my comic ignorance is going to show through... Victor Creed is Sabertooth, right? From this movie, I had a hard time imagining the character in Wolverine with the Sabertooth in the first X-Men movie, aside from the whole claws thing. Unless we're to believe that he just let himself go and fully became the animal after this movie? I'm reading too much into this, aren't I?

Is there anything that was screwed up that I wouldn't necessarily know about?

Also, in my excitement for seeing the movie, I made some Wolverine art.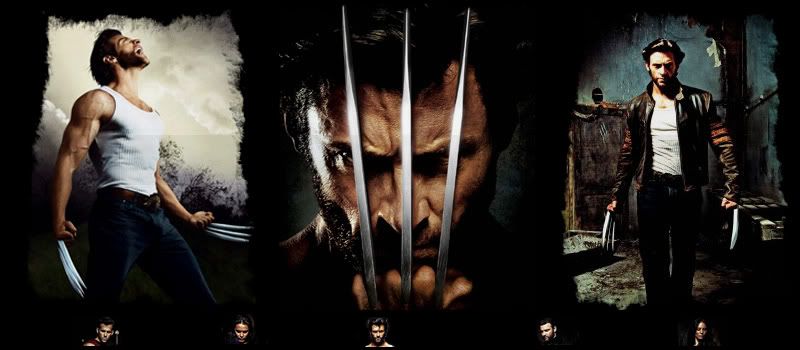 click on thumbnail to see full size





All graphics can be snagged, just please credit me if you use them.